Innovation @ Penn: The Future of mRNA Technology
January 9 @ 3:00 pm

-

5:00 pm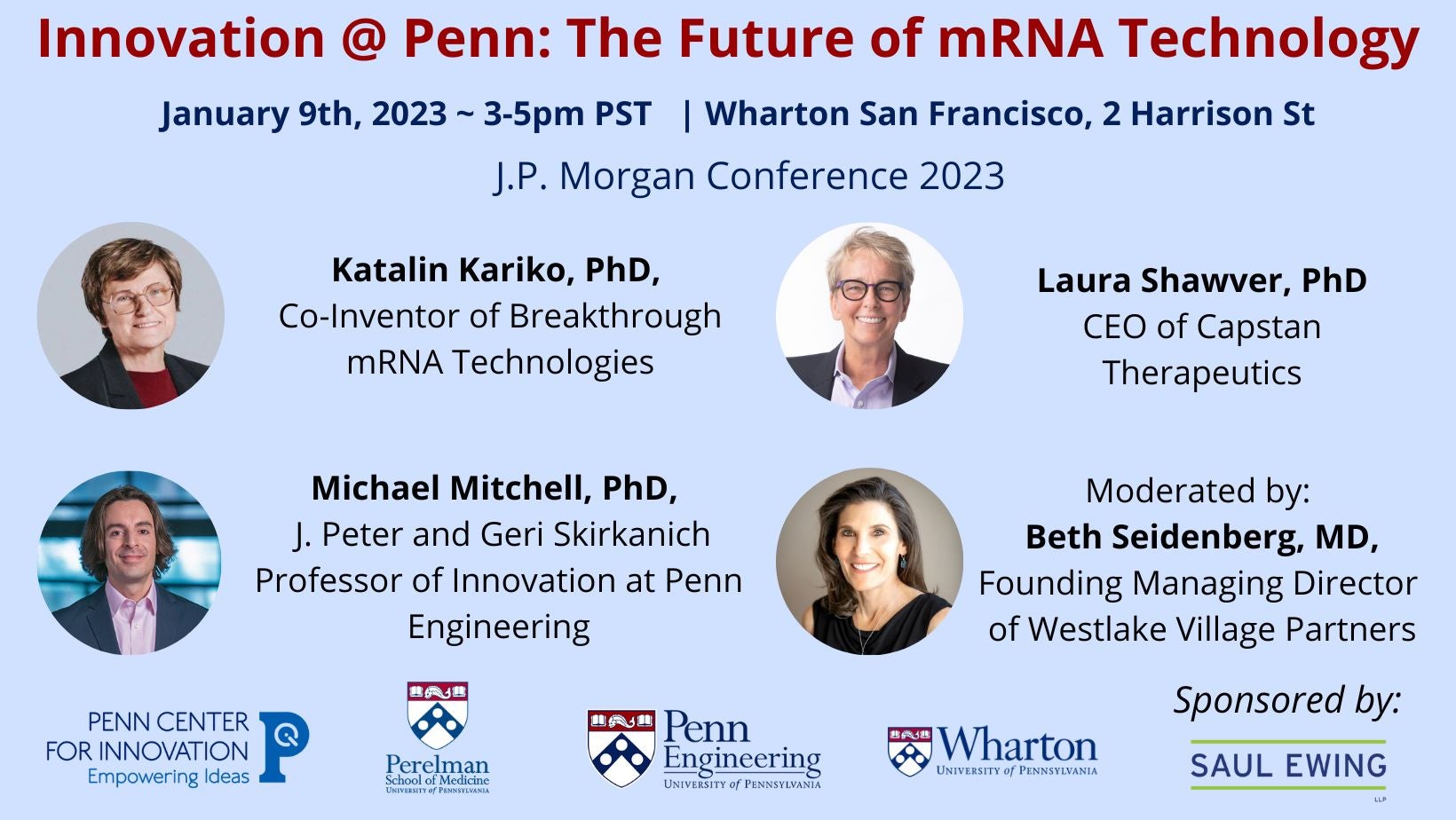 PCI is both humbled and honored to welcome a stellar group of innovators to our Innovation @ Penn program this year.  Our star-studded panel includes Katalin Kariko, PhD, co-discoverer (with Penn Medicine colleague Drew Weissman, MD, PhD) of certain critical nucleoside modifications that protect mRNA-based drugs from degradation, which has widened the therapeutic potential of mRNA in treating diseases, and is a vital component of the two currently most effective vaccines for COVID-19, BioNTech/Pfizer's Comirnaty® and Moderna's Spikevax®. 
Joining Dr. Kariko for a discussion about the future of mRNA Technology is another one of Penn's leading faculty innovators, Michael J. Mitchell, PhD, the J. Peter and Geri Skirkanich Professor of Innovation at Penn Engineering, whose complementary work on the manufacturing and effective delivery of RNA-based approaches promises to further advance the impact of this groundbreaking technology. Laura Shawver, PhD, will also be participating in the discussion. Shawver is the CEO of Capstan Therapeutics, a Penn spinout that unites a world-class team of Penn Medicine faculty with the goal of developing a new type of chimeric antigen receptor (CAR) therapy that incorporates mRNA. We are further delighted that world-renowned industry expert Beth Seidenberg,MD, Founding Managing Director of Westlake Village Partners, will join us to moderate the panel discussion.
Networking reception to follow.
The event takes place January 9th, 2023 from 3-5pm PST at Wharton San Francisco. Networking reception to follow. Register here: https://penn-center-for-innovation-jpmorgan-2023.eventbrite.com