Philly Builds Bio+: 2nd Annual Symposium for Life Science Innovation and Development
September 12 @ 8:00 am

-

3:00 pm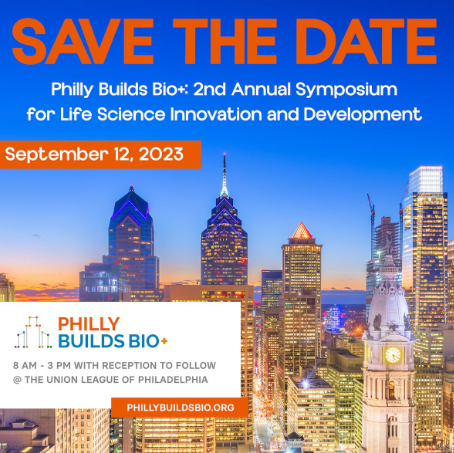 The Philly Builds Bio+ Annual Symposium for Life Science Innovation and Development brings the entire life science ecosystem, curating an agenda around the critical drivers of the life science industry in Philadelphia, its opportunity and potential.
The Symposium features keynote speakers and panel discussions, each moderated by prominent scientists, business leaders, or Philly real estate developers. This diverse range of perspectives ensures comprehensive discussions and insights into the latest trends and advancements in the life science sector. Attendees can expect engaging sessions that delve into critical topics shaping the industry's future.
Overall, the Philly Builds Bio+ Annual Symposium plays a crucial role in strengthening the city's position as a thriving life science hub. By bringing together key stakeholders, facilitating knowledge exchange, and supporting the creation of initiatives like Philly Builds Bio+, the Symposium contributes to the continued growth and success of the life science industry in Philadelphia.
The Symposium Agenda will revolve around the following topics:
Philadelphia's Path to Innovation: Building upon a Rich History
Driving Innovation and Commercialization through Science
Exploring the Latest Funding Landscape for Innovation
Empowering Innovation: Incubator and Accelerator Programs
Revolutionary Advances in Life Science Treatments: Celebrating Success
Unveiling Commercial Opportunities in Philadelphia's Life Sciences Sector
Assessing Philadelphia's Capacity to Meet the Demands of Life Science Companies
Unlocking Potential: Life Science Development in Philadelphia and Surrounding Areas
Addressing the Challenges Confronting Philadelphia's Life Sciences Industry
…and more!