Philly/Mid-Atlantic PetCare Entrepreneur Meetup
September 21 @ 6:00 pm

-

8:00 pm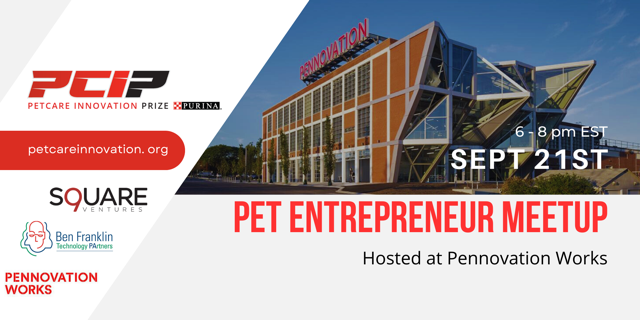 Get your tickets early for a special Pet Care Startup Meetup in Philadelphia at the Pennovation Center!
The Purina Pet Care Innovation Prize, in conjunction with Ben Franklin Partnership, the Penn Center for Innovation, and Pennovation Works is coming to the 'workshop of the world' to host an entrepreneur Meet-Up for the best startups and entrepreneurs in the pet and veterinary industries in Mid-Atlantic on September 21, 2023. Join us for this free event, with libations & refreshments and learn about Purina's $150k in non-dilutive Prize money each year. It promises to be a special event for all interested in the pet industry.
What to Expect:
A brief panel discussion with successful pet startup entrepreneurs, industry executives, and investors.
A networking opportunity like no other, where you'll be able to mingle with investors and other entrepreneurs alike.
A showcase of the most innovative pet startups in Delaware Valley region. Presentation booths, and elevator pitches from each startup.
A chance to learn more about the 2024 Purina Pet Care Innovation Prize, and speak to the judges and evaluators directly.
Panelists:
Includes members from Nestle Purina's 9 Square Ventures, The Ben Franklin Partnership, and PCIN founders.
Want to get involved? A limited number of free table tops are available. Reach out to hello@petcareinnovation.net
About the organizers:
The Pet Care Innovation Prize provides a unique blend of visibility, connection, expertise, and community, all backed by affiliation with Purina, a world leader in pet care. Through their Pet Care Innovation Prize (PCIN), $500,000 of non-dilutive capital has been awarded to pet startups across the US.
Sign up here: https://www.eventbrite.com/e/phillymid-atlantic-petcare-entrepreneur-meetup-tickets-675400800977?aff=oddtdtcreator