Through a grant from NSF, the I-Corps program works with Penn faculty, staff, post-docs, and students to test and validate startup ideas through Customer Discovery. 
Participants learn valuable skills on connecting with customers, asking the right questions, and how to find partners to help get startup idea off the ground. Plus teams are awarded grants of up to $2,000 for participating that can be used to support customer discovery and business development.

I-Corps Overview
The Penn I-Corps program will help you:
Better understand why technology has value and to whom.
Explore taking new technology to the marketplace
Learn how to apply for the $50,000 National I-Corps Program
Increase chances of receiving an SBIR/STTR award
Each I-Corps program takes place over four weeks, and includes 4-6 in-person or webinar sessions, combined with ~8 hours of customer discovery by each team. Classes are free to attend, and do not require current/prior NSF funding to participate. You can choose between the Fall or Spring cohorts.
View the Application Process and Sign Up
The key requirements are:
Team composition: two or more team members, all actively affiliated with the University of Pennsylvania (faculty, students, post-docs, alumni graduated within the past year)
Technology area: revolving around fundamental discoveries in science and engineering
Intellectual Property: developed by a team member as part of research or classwork at Penn
Commitment: fully attend all sessions and complete assignments, including conducting 20 interviews – takes 10 hours per week per team member
Participants should have:
Enthusiasm to engage in learning about primary market research
Commitment to participate fully to attend both the classes and the customer discovery sessions
An established record in following through complex endeavors
Demonstrated ability to work well with others
How Does It Work?
We accept participants on a rolling basis for either the fall or spring program. We help you de-risk your idea to move it forward quickly and find answers to:
Who are my customers?
Do they care about the problem or need I am addressing?
Does my solution fit their needs?
For an in-depth discussion of Penn I-Corps, see I-Corps as a Training Tool for New Technology Development.
Benefits of the I-Corps Program
Completing the program puts your team in an excellent position to apply to the national NSF Teams program — where you'll have $50,000 in support to conduct customer discovery.  Other benefits include:
Participation in PCI events that expose you to key stakeholder and funders in the entrepreneurship community
Mentors to guide you going forward
Support for applying to follow-on programs
Exposure to the Philadelphia startup ecosystem
Up to $2,000 in funding for customer discovery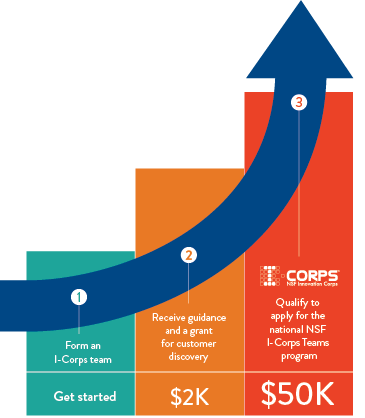 I-Corps by the Numbers
$26M
Funds Raised by Graduate Teams
7
Teams Participated in National I-Corps
14
Teams received SBIR/STTR Funding
Support & Sponsors
The Penn I-Corps Site is an NSF program designed to facilitate commercialization of university research. The accelerator is a joint collaboration between the Penn Center for Innovation (PCI), Penn Law's Detkin IP and Technology Clinic, the City of Philadelphia, Ben Franklin Technology Partners of SE PA, Wharton Entrepreneurship, and Penn Medicine Center for Health Care Innovation. It was established in 2015.
Penn I-Corps is supported by the National Science Foundation under Grant Number 1450467
I-Corps is currently sponsored by Pearl Cohen. Our first corporate sponsor was PwC.
This material is based upon work supported by the National Science Foundation under Grant Number 1450467.
Any opinions, findings, and conclusions or recommendations expressed in this material are those of the author(s) and do not necessarily reflect the views of the National Science Foundation.