The Pennovation Works is a distinctive blend of offices, labs, and production space developed by The University of Pennsylvania to link the intellectual and entrepreneurial initiatives necessary for advancing knowledge and generating economic development.
The Pennovation Works is anchored by the Pennovation Center, a business incubator and laboratory that aligns and integrates researchers, innovators, and entrepreneurs for the commercialization of research discoveries. Intended to marry entrepreneurs with an expert workforce and scientifically advanced facilities, key features of the Pennovation Center are the common creative spaces, including coworking areas, a cafe, and a venue for events and programs.
This 58,000 square-foot facility is located at 3401 Grays Ferry Avenue, adjacent to Penn's campus and the Health System complex.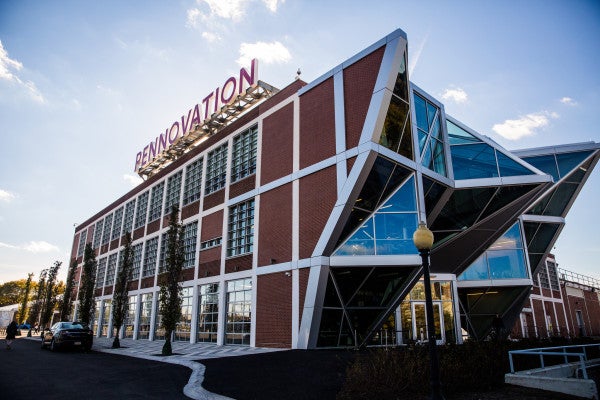 About the Center
The Pennovation Center is operated and staffed by the award-winning innovation management company, 1776. The Center staff includes a full time Managing Director, Community Manager, and Lab Manager, who ensure that members and tenants have a world class experience each day and manage all meetings and special events.
The Center has both Penn and private sector funded startups as well as a shared bio-laboratory incubator. It has multiple community spaces reserved for events, programs and other activities that foster collaboration among faculty, students, entrepreneurs, investors, and corporate and economic development partners.

For the latest news on Pennovation Works, visit their website.
The Pennovation Center has multiple shared labs and minimally-customizable private spaces available for members. The Center leases lab benches, six-person labs, offices, and desks to small companies.
Lab bench membership includes access to shared facilities and lab equipment, instruments, amenities, and services at no additional charge. The inclusive membership makes the Pennovation Center a cost-effective choice for small businesses trying to minimize capital expenses.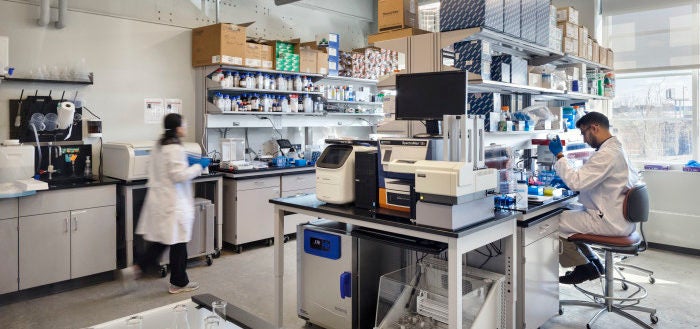 Laboratory Member Benefits & Services
Space
Coworking space with 200 dedicated desks
Furnished lockable offices, cubicles, and desks
On-site cafe operated by Heathland plus community kitchen and break room
Conference and meeting rooms
Beautiful skyline views, located alongside Schuylkill Banks
Access
24/7 access
On-site parking
Uniquely located along I-76, just minutes from the Philadelphia International Airport, Amtrak, and public transit
Access to key scientific instruments
Established safety program
Flexibility
Flexible space and simple membership agreements create a low barrier to entry for young companies
Expand as you grow from a single lab bench to a six-person lab. In the future, larger lab space will also be available at Pennovation Works
Services, powered by 1776
Lab coordinator on-site
Basic wet and dry lab services including glass wash and autoclaving
Multimedia technology support, Internet, and phone access
Mail service, FedEx, UPS, and USPS deliveries
Learn more about Pennovation Center Membership here.
Learn more about Pennovation Works Membership here.