PCIV Spotlight 2022
The PCI Ventures 2022 Annual Report
About PCI Ventures
We provide a wide-ranging suite of products and services to support the development of early stage companies based on technologies and business ideas created at Penn as they make their way towards commercial success.
PCI Ventures actively seeks entrepreneurs to lead our portfolio companies and investors to provide funding for new ventures in development.
Learn More
Our Mission
PCI Ventures, a division of the Penn Center for Innovation, helps maximize the potential of Penn's pioneering research to benefit the University, the investigative team, and society through the creation and stimulus of entrepreneurial endeavors at Penn.
PCIV Resources
Addressable market analysis
Corporate governance support
Commercialization grant assistance
Marketing material development
Company registration
Education programs
Entrepreneur coaching
Executive-level recruitment
Fundraising support
IP strategy development
Legal agreement templates
Mentors in residence
Preferred vendor relations
Strategic partner outreach
Weekly office hours
Workshops
2022 Statistics
Please use your mouse scroller to scroll through all of the statistics.
7
Companies generating revenue
>$187+ million
Raised by 19 PCIV Supported Companies
$438k
Back to Penn from sponsored research
Overall Statistics
75
COMPANIES HAVE RECEIVED FUNDING
>$536+ million
raised in funding
>$25+ million
Back to Penn
82
UNIQUE SOURCES OF FUNDING
Other Fundraising Highlights
Please use your mouse scroller to scroll through all highlights.
New PCIV Supported Companies
Evinacel
Evinacel (George Xu UP-SOM-Path and Lab Medicine) is developing a variety of technologies that enable improved gamma delta T-cell therapy, a novel DR5 CAR construct, and an exosome therapy platform.
Fluorosurgical Biosciences
Fluorosurgical Biosciences (Jim Delikatny and Sofya Osharovich UP-SOM-Radiology)
Liquid BioDx
Liquid BioDx (Jay Dorsey and Gary Kao UP-SOM-Radiation Oncology) is developing a diagnostic blood test for sensitive detection of circulating tumor cells.
Neurostorative
Neurostorative (Justin Burrell and Kacy Cullen UP-SOM-Neurosurgery)
Paladai
Paladai (Eugene Ko UP-Dental) is developing a dental device that helps babies with cleft palate feed.
Paradigm Analytics
Paradigm Analytics (John Fischer UP-SOM-Surgery) is developing clinically-informed decision-based software to help with identification, stratification, and prioritization of patients for certain types of surgical procedures.
Stage One Immunotherapeutics
Stage One Immunotherapeutics (Malay Haldar UP-SOM-Path and Lab Medicine) is developing small molecules that target retinoic acid signaling pathway to treat solid tumors.
Ventru
Ventru (Rachel Blue and Michael Spadola, PSOM) aims to improve the safety and efficacy of neurosurgical procedures through surgical instrument innovation, currently focusing on improving the accuracy of placing ventricular drains in the brain.
Venture WarmUP
At the beginning of 2022 PCI Ventures launched Venture WarmUP, a new PCI program designed to assist faculty prior to starting a company as they explore different options for technology development and commercialization. Program participants may choose to work with PCI to pursue licensing or R&D alliance opportunities, start a company through PCI Ventures, start a company on their own (or with an outside partner), or simply continue with additional research. The program is already quite popular as evidenced by the following participant projects:
ACE Genomics (Rahul Kohli SOM-Medicine) is developing novel enzymes to assess epigenetic modifications to allow for advanced research tools and diagnostics.
Cesar de la Fuente (SEAS-Bioengineering) AI platform for discovery antimicrobial or antibiotic compounds.
Kurt Brunden & Garret Gibbons (SOM-Pathology) targeting tau for alzheimers via microtubule stabilizer tech and tau mAB tech.
Mike Mitchell (SEAS-Bioengineering) is developing a lipid nanoparticle screening platform that utilizes a barcode technology.
PICI TCR mKRAS (Beatriz Carreno, Gerald Linette, Bob Vonderheide, Adham Bear SOM) are developing novel TCR therapies to treat mutated KRAS tumors.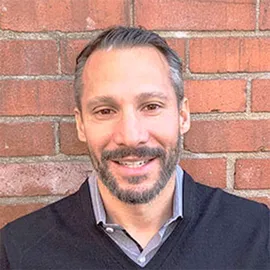 Brian Biddulph-Krentar
Brian Biddulph-Krentar is the CEO of SchoolSims, a Saas company that produces software simulations designed to prepare and develop current and future school staff. In 2019, after selling his last software company, Brian was connected to SchoolSims founder, Ken Spero. As a founder himself, Brian was impressed with Ken's passion and the two agreed to partner on growing the startup.
Brian initially came on board as the Chief Strategy Officer, his experience in implementing product, marketing and sales playbooks aligned well with Ken's vision. That vision is, "to make a difference in how school leaders and teachers are prepared to succeed in challenging jobs. SchoolSims allows these stakeholders to practice in a safe yet realistic environment to improve decision-making and judgment before facing real challenges." Since Brian started at the company, SchoolSims has doubled its simulation library, allowing the company to move into new areas such as simulations for teachers and counselors. By adding these areas, the company has been able to expand its total addressable market opportunity. In 2022 Brian moved into his role as CEO, now he runs the business and ensures their growth goals continue to align with Ken's vision for company. Brian says it makes for a great partnership and splitting of responsibilities. He finds managing his team the most rewarding aspect of being a CEO. According to Brain, "being honest and bringing your team along for the ride is essential in a startup company."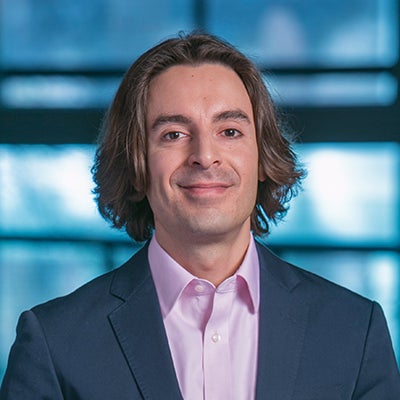 "The team at PCI Ventures has been an absolute pleasure to work with. Their passion for supporting the translation of potentially life-saving technologies, and the wealth of industry knowledge and expertise they possess is evident in the guidance and strategic advice they provide to entrepreneurs and faculty. The work they are doing is transforming the ecosystem and we are very proud to be part of it."
Nishta Rao, Managing Director, Life Science Practice Leader, Business Banking, First Republic Bank
"PCI Ventures enabled ŌNŌCOR's early corporate formation and initiation of IP activities. Michael Poisel was instrumental in this and other ongoing needs of the company as it developed. ŌNŌCOR was also fortunate in being awarded an NIH grant for funding the company though regulatory approval and this in no small part due to the active participation of our portfolio manager, Michael Dishowitz in the application process. We now look forward to exploring partnerships with key strategic enterprises in our market segment and successful commercialization of the ŌNŌ device."
Mark Piper, CEO, ŌNŌCOR
"I have been continuously impressed by the dedication and capability of PCI Ventures in providing expertise on the transition from academic projects to commercial ventures. The leadership team provides unparalleled strategic guidance by leveraging their deep know-how in academic start-up organization and operation, their carefully cultivated contacts in venture funding and industry, and the peerless translational ecosystem at Penn. Most recently, support from PCI Ventures was instrumental in allowing Innervace to close on a $40 million A-Round to accelerate the translation of a first-in-class restorative treatment for Parkinson's disease."
D. Kacy Cullen, PhD, Co-Founder of Innervace; Associate Professor of Neurosurgery & Bioengineering