On Tuesday, September 17, the Office of the Vice Provost for Research is opening the doors for its first annual Open House. This event is designed to connect the Penn community and partners to the resources, tools, and advice needed to successfully commercialize innovation.
During the event, you can meet with the experts at Penn who support commercialization, research excellence, and interactions with academic and industry partners. We'll overview new and existing resources to patent and commercialize your ideas, and provide guidance from staff who specialize in startups, commercialization, and licensing. This event is free, but registration is required.
Other things to expect at the Open House:
One-on-one time with experts
Quickfire presentations on solving frequent issues
Networking with Penn inventors and startups
Free food and drinks
At 3:00pm, the Vice Provost for Research Dr. Dawn Bonnell and the Provost Dr. Wendell Pritchett will speak and do a ribbon cutting on the new offices.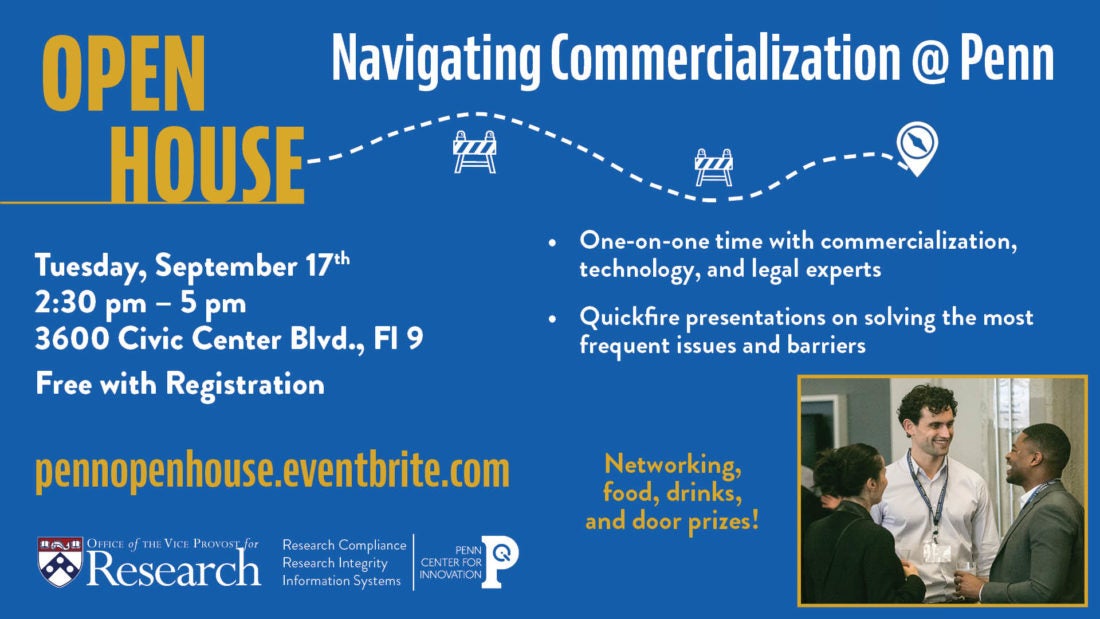 The Open House is a unique opportunity to get your questions answered before you dive into the patent process or form a business. Topics to be discussed include:
Intellectual Property
Licensing
PCI Ventures and starting a business
Tech Tools
Corporate Outreach
Marketing and Programs, such as I-Corps, Fellows, and events
At registration, you can also schedule yourself an "Office Hour" timeslot with one of our experts for a personalized consultation.
Details: