During the 2022 fiscal year, there were 98 press mentions for PCI programs, startups and partners. Some of the most popular and widely circulated stories are listed below:
Penn Today recognizes PCI for its landmark fiscal year in 2021 & celebrates Pennovation Works' 5th Anniversary
With its highest number of patents issued, commercial agreements, corporate-sponsored research funding, and licensing revenue receipts in a single period, PCI had a record breaking fiscal year in 2021.
The year's high number of issued patents is "a testament to the strength of the science and the creativity of Penn researchers," said John Swartley, associate vice provost and PCI managing director. "We would not be able to do that if we didn't have this exceptional, inventive talent at the University faculty level."
Moving forward, Swartley said he hopes to see PCI's successful model continue to prosper and build on the strong foundation put in place during the past decade, with specific goals that include finding new ways to support early-stage projects and expanding their physical sciences portfolio.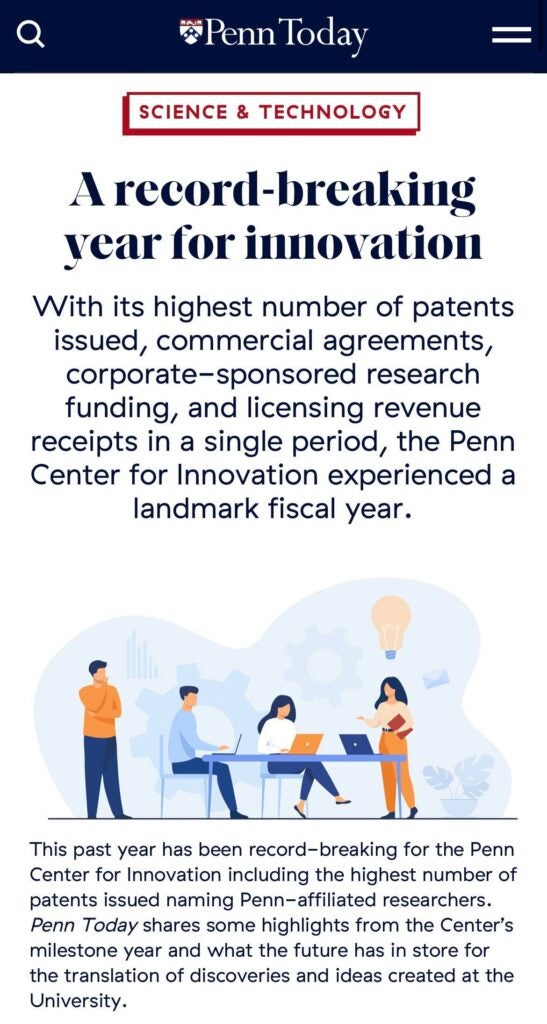 Pennovation Works also received recognition this year, and was highlighted in Penn Today in celebration of its 5th anniversary in November 2021. President Amy Gutmann originally opened Pennovation Works as a facility designed to align researchers, innovators, and businesses for the commercialization of discoveries. Since its opening, the Pennovation Center and the surrounding 23-acre Pennovation Works campus have been an essential part of Penn's goal of connecting entrepreneurs with world-renowned experts and state-of-the-art facilities.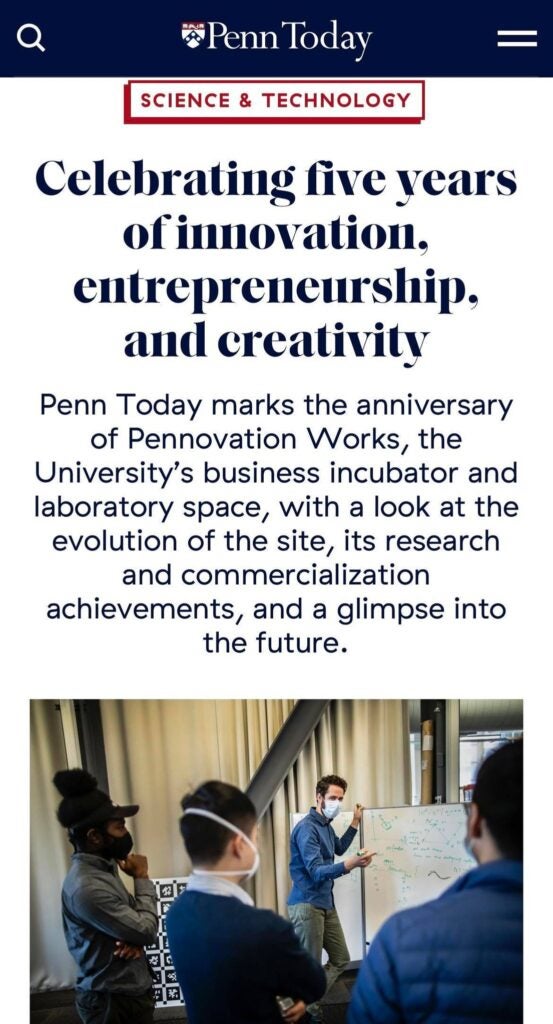 President Amy Gutmann Celebrates Record Tenure of Nearly 18 Years
Penn President Amy Gutmann celebrated a record tenure of nearly 18 years at Penn in 2022. Not only did Gutmann spearhead the creation of a broad and robust innovation ecosystem at Penn and in the Philadelphia region, but her support and vision was absolutely vital to the creation of both PCI and Pennovation Works.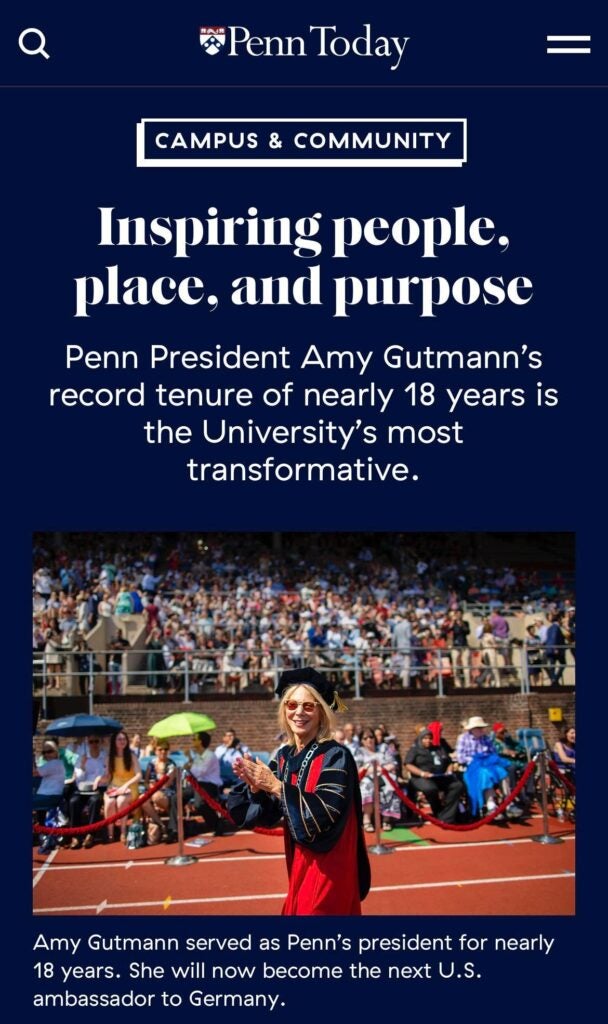 Philadelphia Inquirer shines its spotlight on Penn mRNA Research
In 2005, Penn biochemist Katalin Karikó and immunologist Drew Weissman published a paper detailing research focused on messenger RNA (ribonucleic acid). Years later, this mRNA technology was implemented by Moderna and Pfizer-BioNTech to create mRNA covid-19 vaccines, which have since saved an estimated 2 million lives in the United States.
The duo's hard work has not gone unnoticed. In September 2021, Karikó and Weissman were awarded a $3 million Breakthrough Prize, an award sponsored by an international group of tech-industry titans, for their success in modifying the mRNA so it can instruct human cells to make customized proteins.
Karikó and Weissman's research has also helped contribute to the expansion of research at Penn. Thanks to patents facilitated by PCI on Karikó and Weissman's research, licensing revenues derived from certain vaccine products are being re-invested into Penn's research portfolio to support further discovery of life-saving therapies and technologies.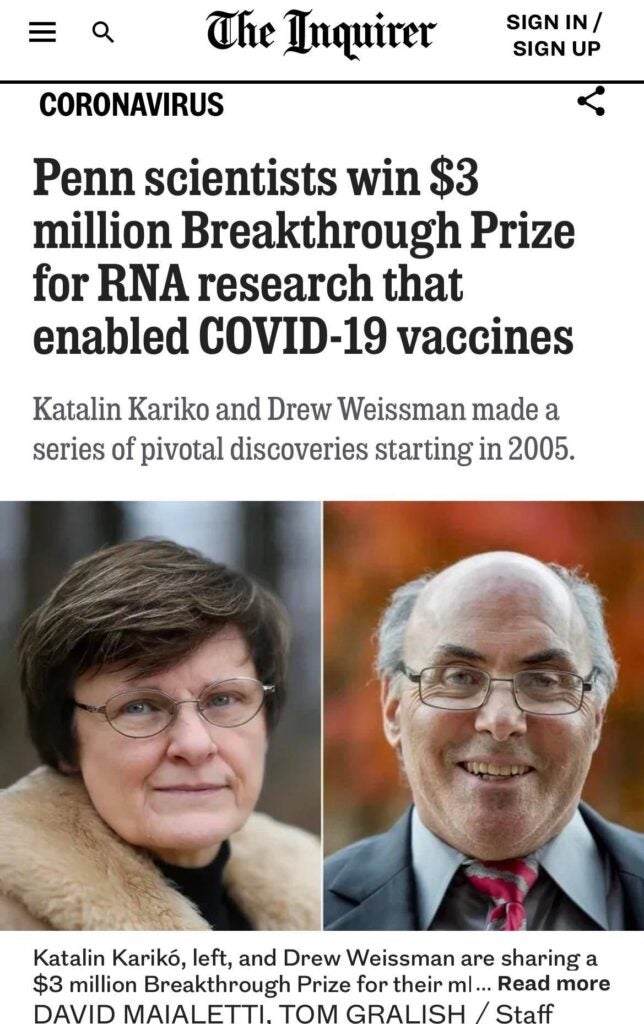 Penn-invented CAR-T therapy achieves unprecedented decade milestone
Ten years ago, Dr. Stephan Grupp, MD, PhD, launched the first phase 1 trial of Penn-invented CAR-T (chimeric antigen receptor T-cell) cell therapy with 6-year-old acute lymphoblastic leukemia (ALL) patient Emily Whitehead at the Children's Hospital of Philadelphia (CHOP). After that one CAR T-cell treatment in 2012, Emily has since been free of her leukemia and has remained in remission for more than 10 years.
Now, after a decade of CAR-T therapy, Grupp says that he is finally starting to use the "cure" word.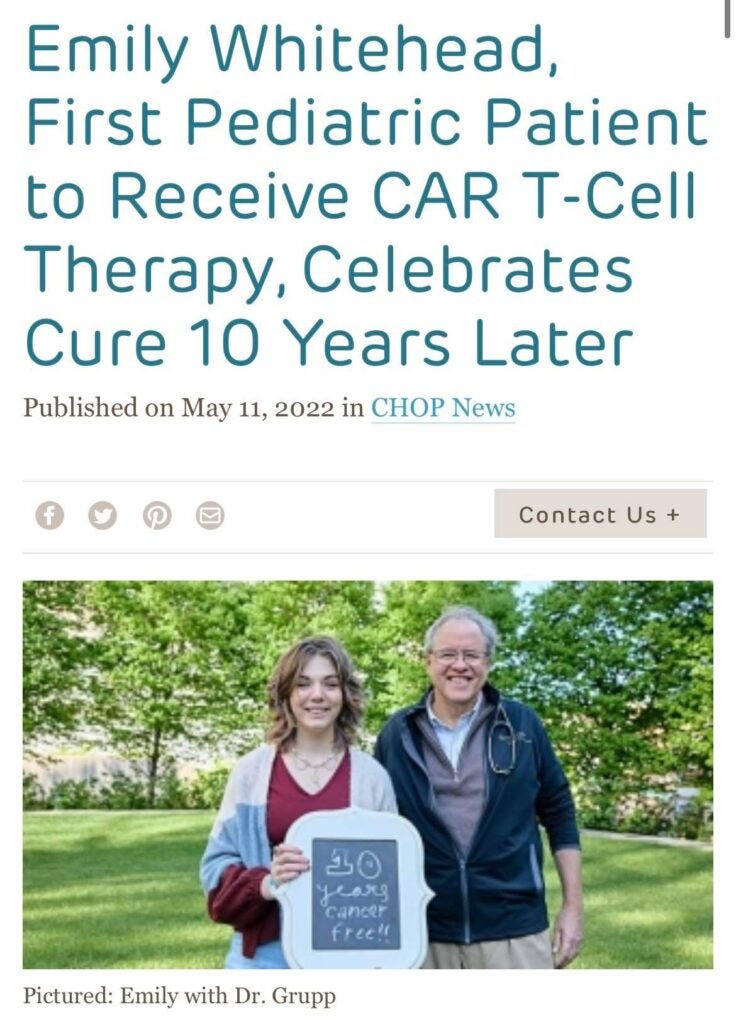 In addition to Emily Whitehead, the first two adults to be treated with CAR-T therapy for chronic lymphocytic leukemia patients also celebrated 10 years cancer free. The New York Times and Philadelphia Inquirer detailed the stories of patients Doug Olson and Bill Ludwig.
"Oncologists don't use words like 'cure' lightly or easily or, frankly, very often," said their oncologist David Porter, MD, Director, Cell Therapy and Transplantation Jodi Fisher Horowitz Professor in Leukemia Care Excellence. "When we started this, I don't think we were expecting this would develop into such a powerful curative therapy."