During the 2023 fiscal year, there were 134 press mentions for PCI programs, startups and partners. Some of the most popular and widely circulated stories are listed below:
Penn Today Interviews John Swartley About PCI's Impact
Penn Today interviewed John Swartley, Associate Vice Provost and PCI's Managing Director about the organization's role in translating discoveries and ideas at Penn into businesses and products for societal benefit.
In the article, Swartley discusses selected key highlights from FY22, including the major impact Penn technologies have made towards providing life-saving and life-protecting medicines to billions of patients worldwide. Penn expertise and technologies licensed from the University, he further explains, are key components in nearly two dozen FDA-approved drugs and devices (including the two currently approved mRNA-based COVID vaccines), which are directly impacting and improving human lives.
Swartley also expressed his gratitude to his predecessor Mike Cleare, his visionary boss Dawn Bonnell, former President Amy Gutmann, and Penn's entire executive leadership team and Board of Trustees for their support and encouragement of innovation at Penn.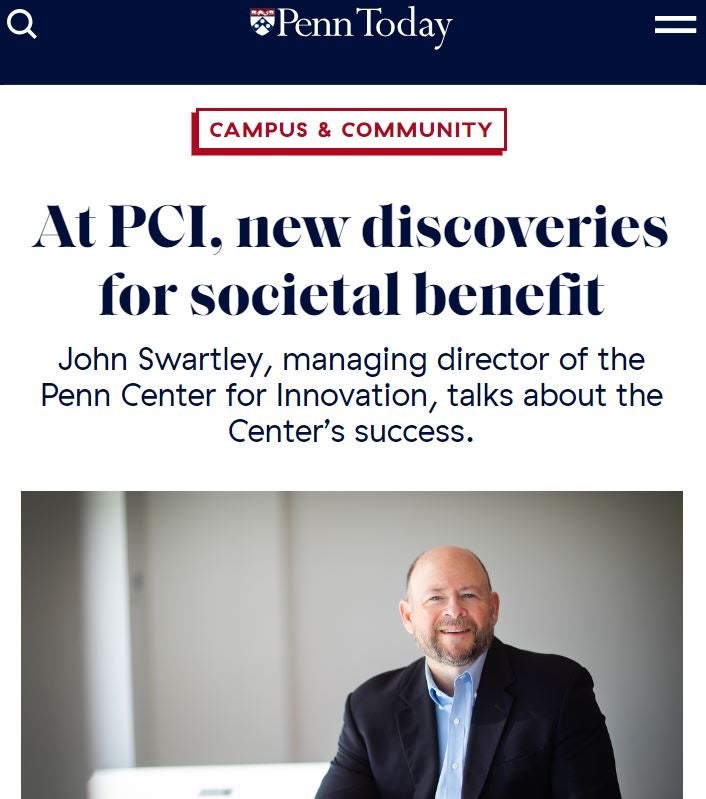 Penn Ranks First in Licensing Income
Penn reported the highest amount of gross licensing income of all respondents in the 2021 Association of University Technology Managers (AUTM) annual survey, which included 153 reporting institutions. For context, Penn's income figures were more than double that of the next largest contributor which was the entire University of California system. This is a major milestone for Penn and Philadelphia's innovation ecosystem and is a direct result of the exceptional research, development, and innovative breakthroughs made by the University's world-class faculty and research community.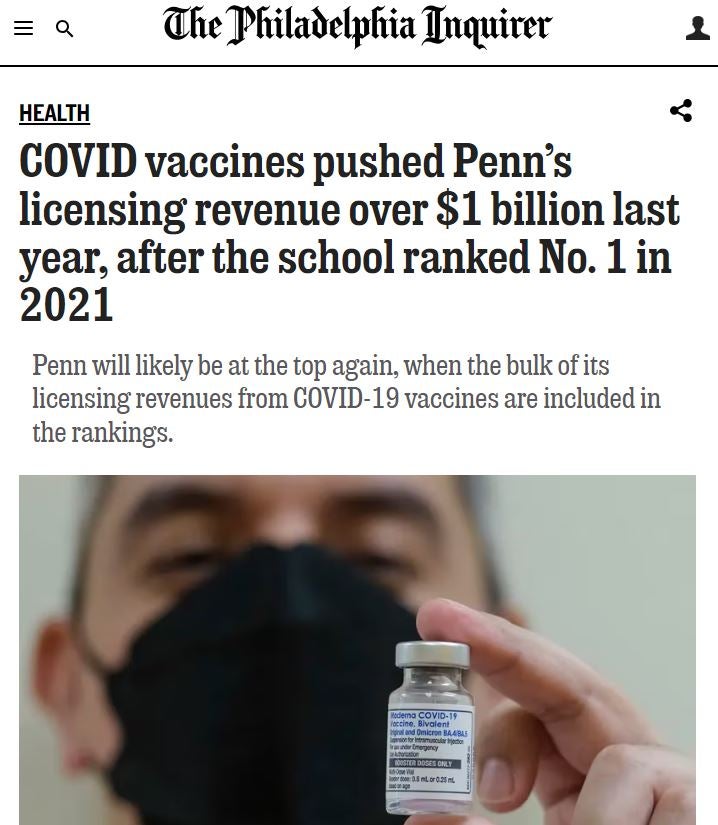 PCI Featured as the Philadelphia Business Journal Cover Story
In an exciting development, The Philadelphia Business Journal featured PCI's Managing Director John Swartley, MBA, PhD, as their cover story. The in-depth interview with Swartley provides a comprehensive history about technology transfer at Penn as well as his unique perspectives on the establishment and current success of PCI.
As Managing Director of PCI, Swartley's leadership has helped Penn rank first in gross annual licensing income among U.S. universities and research organizations, according to AUTM's 2021 report. More importantly, PCI facilitated licenses and partnership agreements with the private sector have contributed to the approval and launch of many important products, including therapeutic drugs that have benefited billions of patients world-wide such as mRNA-based Covid-19 vaccines that rely on technology developed at Penn by Dr. Drew Weissman and Dr. Katalin Kariko.
In terms of what's next for PCI, Swartley points to a future full of further technological development and innovation. "There are multiple hundreds of invention disclosures per year, on top of the thousands of other technologies that we're working on," he said. "The volume is tremendous and we have to be able to react quickly to areas of opportunity. You can't get static. … I think our world is going to change pretty quickly and we're going to need to adapt with it."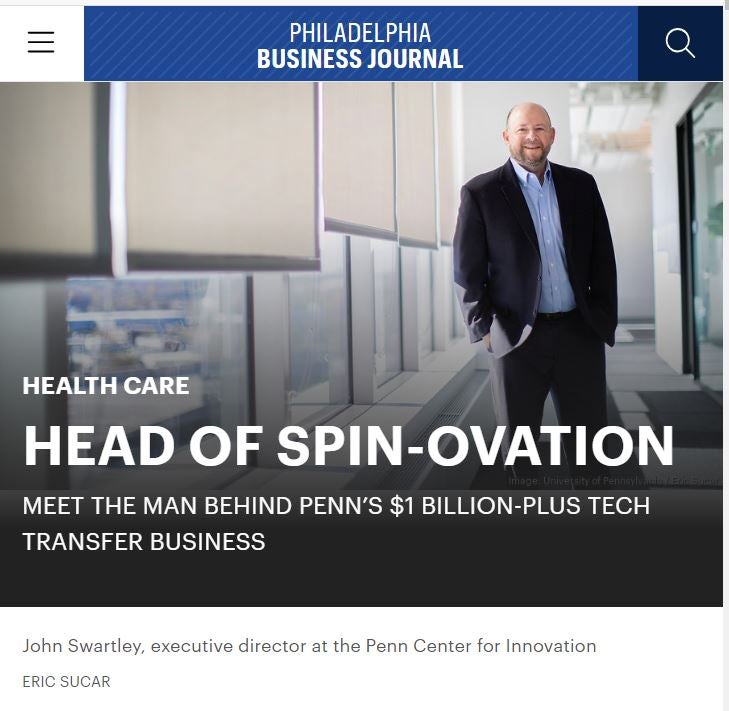 Tribeca Film Festival Documentary Features CAR-T Journey
On June 12th, 2022, the documentary "Of Medicine and Miracles" premiered at the Tribeca Film Festival in New York City. Created by Oscar-winning director Ross Kauffman and Oscar-nominated producer Robin Honan, the film follows the journey of Emily Whitehead, the first pediatric patient to receive the revolutionary CAR-T cell therapy developed and tested at Penn and CHOP.
Tribeca Film Festival Director Cara Cusumano described the film as "a tear-jerking, heart-racing record of medical history that honors its subjects and their trauma while empowering future generations to attempt the impossible."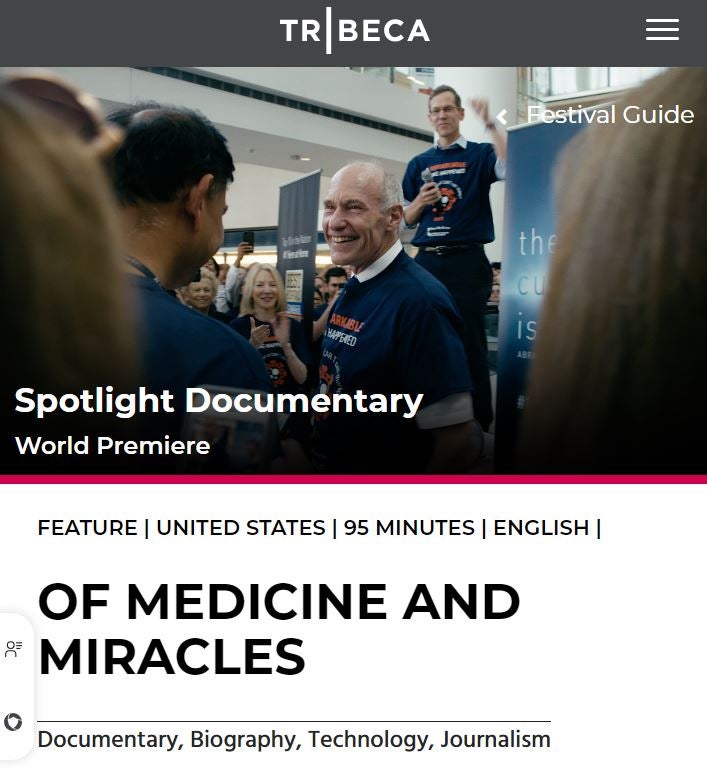 Vetigenics Founder Nicola Mason Featured on CBS 60 Minutes for Canine Cancer Research
Nicola Mason, BVetMed, PhD, of Penn Vet was featured on CBS' 60 Minutes, where she spoke about her research on immunotherapy treatment for cancer in dogs. Mason participated in the Penn I-Corps program and co-founded Vetigenics, an animal health biopharmaceutical company committed to improving canine health. Learn more about Mason's work and watch the full interview here.