Penn's Division of Facilities and Real Estate Services newest Pennovation Lab tenant, Strella Biotechnology, will be occupying an approximately 2,000 SF lab in the building, expanding its agricultural innovation within the Pennovation Works ecosystem. The Lab is designed for companies that have secured early-stage funding and have outgrown their incubator space, and with this lease, nearly one third of the building is already under agreement.
"We're very excited to grow the business in a custom-designed lab space to support packers, importers, and retailers in delivering high quality produce to all consumers. We're also excited to stay within the Pennovation ecosystem. Working with advisors and partners who are so accommodating, supportive, and qualified has been invaluable to our company", said Jay Jordan, Strella's Chief Operating Officer.

Strella Biotechnology is a Philadelphia-based agricultural biotech startup, founded by Penn graduates, looking to solve the global problem of food waste, through data-driven technology designed to ensure fruit quality throughout every segment of the supply chain by predicting the shelf life of food. They participated in the Penn I-Corps program , and then went on to win the 2019 President's Innovation Prize. In less than two years, Strella has grown from a lab bench and office in the Pennovation Center to their own lab. The company has raised $3.3 million in its seed funding to-date, led by California-based venture capital firm Yamaha Motor Ventures & Laboratory Silicon Valley, Catapult Ventures, Union Labs, Red & Blue Ventures, and entrepreneur Mark Cuban. Strella has won several awards including "The Pitch" podcast event at Penn, VentureWell E-Team grants, a $100,000 award in Arizona State University's Innovation Open competition, as well as a National Science Foundation grant and the company is planning to raise a Series A round this winter.
"We are very happy to see Strella grow within our ecosystem and are looking forward to building out their state-of-the-art lab in the Pennovation Lab building, which has been specifically designed to offer early-stage companies their own custom-designed labs," said Anish Kumar, Managing Director of Pennovation Works.
Philadelphia's newest multi-tenant lab and office space, Pennovation Lab is now available for occupancy. Developed by the MRA Group on behalf of Penn, the new facility boasts 65,000 square feet of scientifically-advanced wet and dry labs and office space, attracting tenants with its highly desirable location adjacent to the University and positioned in the heart of the Pennovation Works campus. At Pennovation Lab, tenants can combine 2,000 square-foot-modules to customize their own unique suite, up to approximately 12,000 square feet. Advanced features in the base building, such as a high efficiency air handling system, backup power, and modular layout, enable delivery of the labs quickly and cost-effectively. In addition, a dedicated lab fit-out team has been assembled to meet the needs of each tenant every step of the way, regardless of their stage of growth or real estate experience.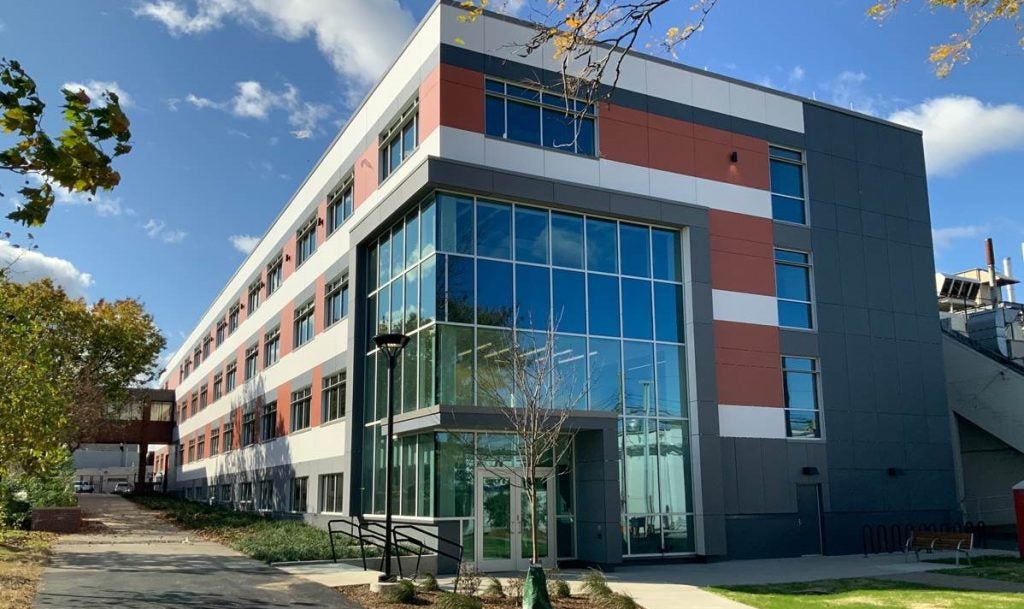 "Company development at Pennovation Works is a vital resource that helps us effectively connect and leverage the entrepreneurial networks of the University of Pennsylvania and the Penn Health System as we actively engage with our community of researchers and company partners through technology concept to licensing to startup formation," says John Swartley, Associate Vice Provost for Research and Managing Director of the Penn Center for Innovation which co-administers the President's Innovation Prize program. "By helping to provide the connective and networking support resources needed to effectively commercialize ideas and successfully bring them to market, we're constantly striving to expand and accelerate the impact of Penn's innovation output for society."
As a Pennovation Lab tenant, Strella Biotechnology has access to building amenities, which include a two-story lobby with a seating area; dedicated lounge space complete with a kitchenette, and a glass wash and autoclave facility. Additionally, Lab tenants have access to Pennovation Plaza, Cafe, and Pennovation Works events and services, as part of this community 'where ideas go to work'.