The competition was stiff at this summer's Pennovation Accelerator Pitch Day, held on Thursday, July 25. So much so, that judges deliberation took longer than on any previous pitch day. But in the end, The OrVac, a medical device invented by Tyiwanna Carter, got the win and the prize of $5,000 and six months of rent covered at the Pennovation Center.
Each summer, the Pennovation Accelerator invites a cohort of local startups to engage in a six-week program to develop their business strategy and cultivate their network. As part of the program, they participate in weekly educational sessions, and are paired with an experienced mentor to advise them on their journey. Additionally, curated networking events help immerse the companies into the larger Philadelphia entrepreneurial community.
This year, nine startup companies were chosen from over sixty applications and represented a variety of industries:
The OrVac
The OrVac is a Portable Handheld Oral Aspirator for oral liquid waste evacuation and disposal. After speaking and researching with nurses and speech therapists, Founder and Inventor Tyiwanna Carter, found that the OrVac can help patients with swallowing disorders, and at a price point more accessible to the average person.
Congrats Tyiwanna on your win!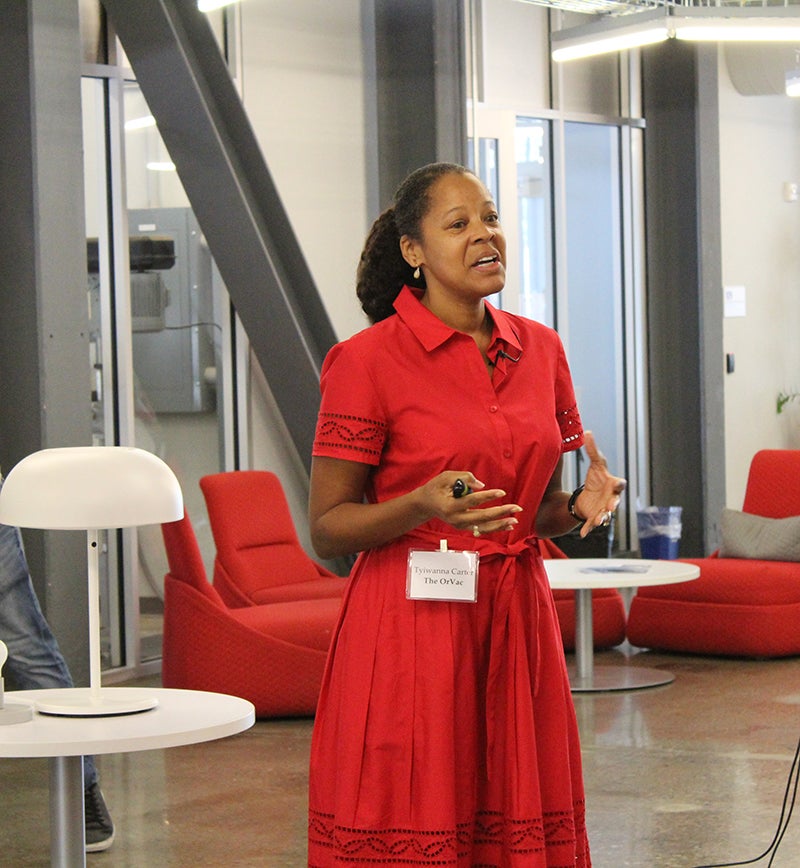 Mel's Butter Blends
Melissa Lamarre, Founder and CEO of Mel's Butter Blends, sought out to create products that provide natural solutions to common hair and skin issues, such as eczema and alopecia. Her natural products are for full-body use and are not water or shea butter based like the majority of natural products in the mainstream market.
Kidas
Kidas is a service to protect kids from online predators and cyberbullying using AI monitoring of social media. As kids use more apps and social networks in an unsupervised environment, they become more exposed to cyberbullying and online predators. Kidas will support all connected devices kids use and alert parents of threats to their children, while empowering and educating kids on safer internet use. Ron Kerbs is the Founder and CEO.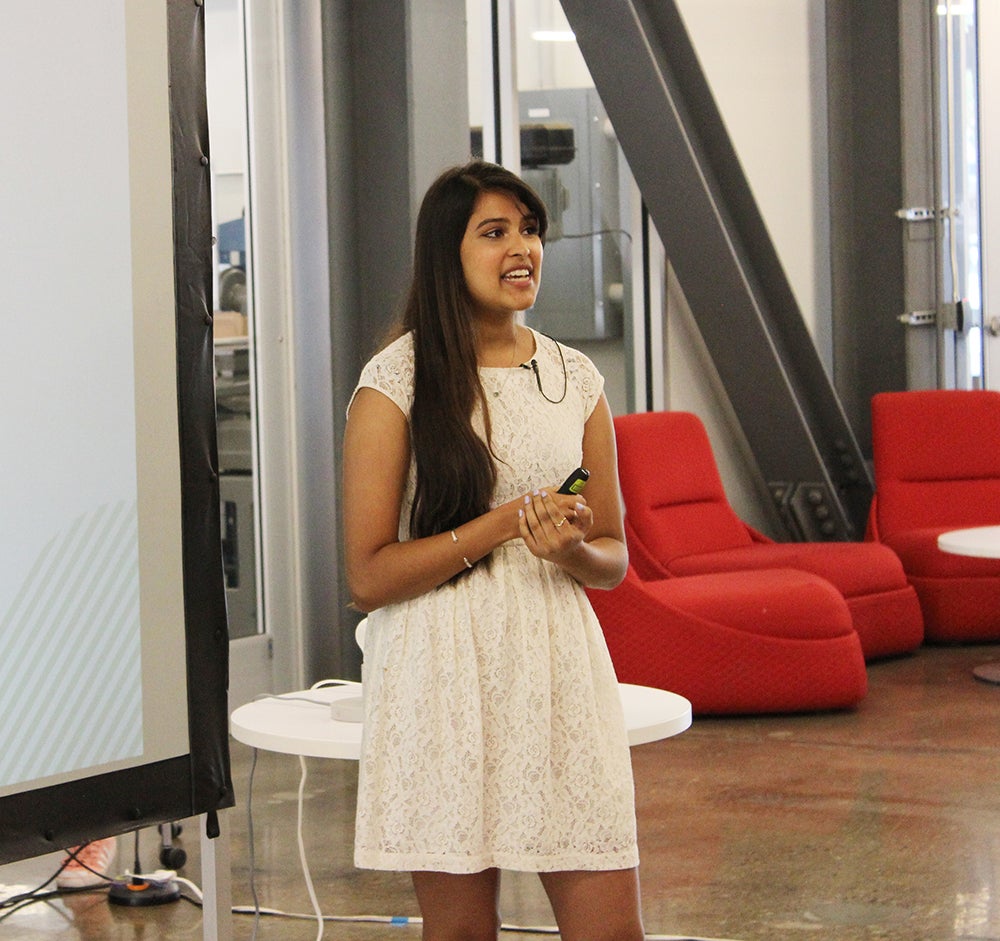 TrueTone
TrueTone is a platform that matches users to their perfect makeup shades and colors. The user takes a series of quizzes to determine their skin type, tone, and product use, and then TrueTone matches them to product recommendations that reflect their preferences. The company plans to convert their platform into an app the user can upload a selfie to get matched products. TrueTone's Founder and CEO is Neha Raman.
Bedtime Bulb
With Bedtime Bulb, Greg Yeutter, Founder and President, proved that people will invest to improve their sleep. The company is focused on combating sleep-disturbing blue light, and build solutions to eliminate jet lag, prevent chronic disease, and improve productivity, all with light.
CóBARE
CóBARE is a lifestyle brand for all things sexual health and reproduction. A multi-platform, experiential source of information drawn from the stories or families and communities where these topics have traditionally been taboo. Founder and CEO, Jelece Morris, refers to CóBARE as the "sex ed class you wish you had gotten." This brand provides interactive events and products to inspire its audience to become educated and empowered.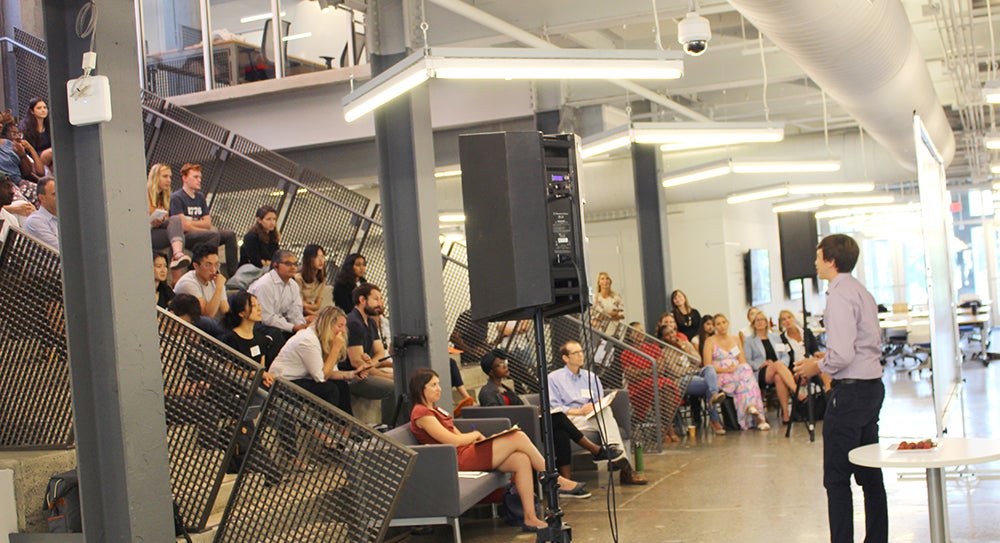 Murphy Cares
Murphy Cares is a mobile platform that creates a direct and personal connection between individuals and dogs, thereby promoting compassion and companionship. The goal of Murphy Cares is to serve as virtual pet therapy with videos designed to lower anxiety, and have real-time response from dogs. Michele Davey is the Founder and CEO.
Squad
Squad is a long-distance carpooling platform. Gavin Yerxa is the Co-Founder and CEO. His team realized that there was a market for those who are willing to carpool and share costs for long distance travel between cities. They are building a marketplace that allows drivers with empty seats in their car to connect with riders will to pay for those seats.
Cocoa Press
The Cocoa Press is a 3D chocolate printer that lowers the hurdles associated with customizing beautiful, delicious chocolates. The Cocoa Press enables chocolate shops, bakeries, and caterers to make high quality custom chocolates that are cost effective even at low quantities. It also allows for new designs that are not practical or possible with traditional molding methods. Evan Weinstein is the Founder of Cocoa Press.
While the above descriptions focus on the individuals in the accelerator who gave the pitches, each invention has partners, supporters, mentors, family members, and friends, who helped make these companies a reality.